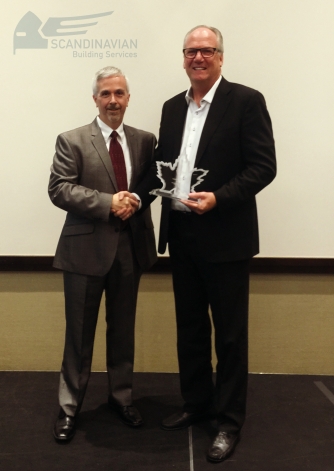 The Scandinavian Building Services family is excited to announce that our CEO, Terry Hay, was presented with the prestigious 'Canadian Excellence Award' for 2015 from PRSM Canada.
Please join us in congratulating Terry for this well-deserved recognition for the hard work both him and our Scandinavian family put in every day!
---
PRSM Press Release:
DALLAS, TX – October 27, 2015 The Professional Retail Store Maintenance Association (PRSM), the authority on retail, multi-site facilities management, today presented Terry Hay, Chief Executive Officer, Scandinavian Building Services the Canadian Excellence Award. The award was presented during the PRSM Canadian Conference in Mississauga, Ontario, and recognizes Hay's leadership and service in the retail industry and within PRSM Association.

Hay is a highly regarded facility management leader and has been a key contributor within the PRSM Canadian Community. A true leader, Terry mentors, educates and shares his knowledge. He speaks at PRSM Conferences, serves on committees and authors industry Best Practices papers.  He proudly promotes PRSM wherever he travels, and is personally responsible for adding several new retail members in western Canada.

Established in 1956, Scandinavian Building Services has been owned and operated by the Hay family since 1982.  The company's 2,000 plus employees provide cleaning services for more than 50 million square feet of retail stores operated by top Canadian retailers. Under Hay's leadership, the company has received numerous awards for customer service and was recently named by Deloitte as one of the Best Managed Companies in Canada.

Reflecting upon winning the PRSM award, Hay said, "I am extremely honored to be recognized by my industry peers and by PRSM with this award.  It is always a privilege to serve our customers and to be a member of PRSM. I want to thank our Scandinavian team for their hard work and dedication and all of the PRSM members who have helped us along the way. We appreciate the opportunity to be a part of this industry and part of PRSM."

"The Canadian Excellence Award was created to recognize the highest levels of professionalism in retail facilities management. Recipients of the award are innovative leaders in the industry who excel in their company, and they also give back to the profession in terms of sharing their knowledge and experiences with others. I am pleased to present this year's award to Terry Hay, an outstanding industry leader." said Bryan Walker, PRSM Association 2015-16 Board President, Store Facilities Manager, The Container Store.
---
About the Professional Retail Store Maintenance® Association (PRSM)
PRSM Association, the authority on Retail and Multi-site Facilities Management, is the leading membership organization for retail facilities and vendor professionals.  PRSM empowers the Retail Industry facilities management with best practices, benchmarking, education, discussion forums and trusted partnerships. Chartered in 1995, and with almost 1,000 member companies, the PRSM community values are founded on a spirit of innovation, resourcefulness, the quest for knowledge and ethical business relationships. Members depend on PRSM to help them achieve greater success and a competitive advantage through quality programs and resources.  Visit prsm.com for more information.